I'm absolutely stoked! — Basic Trailers AusTRAILER Day Giveaway Winner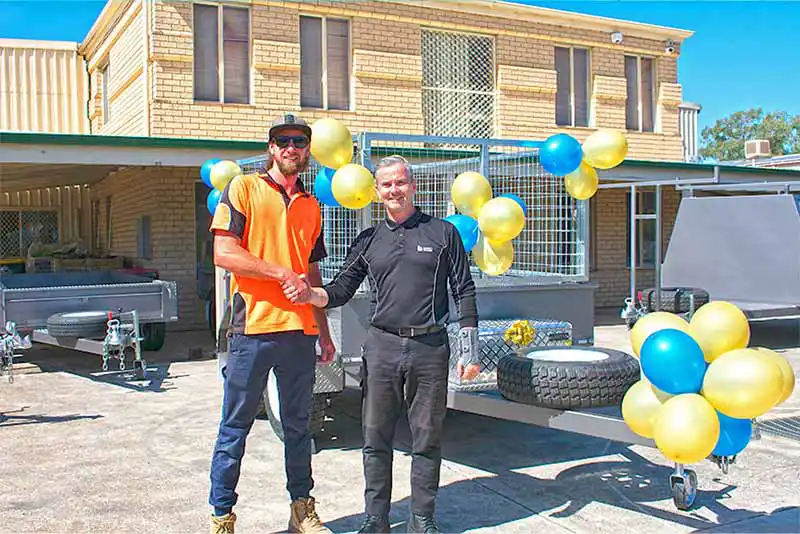 Kurt Sautebin from Parafield Gardens was the lucky winner of the 2022 Basic Trailers AusTRAILER Day Giveaway.
Kurt, 28 and a former carpenter, proudly towed away a brand new 8x5 tandem axle tipper trailer with cage worth $8,000, saying, "Couldn't believe I'd won, to be honest, it was absolutely awesome!"
The response to the giveaway was huge, and we received more than 1,000 entries from people across Adelaide and South Australia eager to get their hands on a high quality, locally designed and built trailer made from 100% Australian steel.
Like our thousands of satisfied customers across SA, what Kurt was looking forward to most was the durability and versatility you get with a trailer from Basic Trailers. "I'll use it for when I go firewood cutting," Kurt told us, "or take it camping. It'll be great for carrying dirt bikes, and dump runs, too. Bit of everything really."
Thank you to our loyal Basic Trailer customers
Basic Trailers is a family owned and operated South Australian business, and we are proud of our growing reputation for producing high quality trailers using Australian steel right here in Adelaide.
"Over the past four years, we've built up a really loyal customer base and a huge following on social media," said Sam, owner of Basic Trailers. "We wanted to give something back to say thanks to everyone who supports us, and as we proudly only use 100% Australian steel in our trailers, Australia Day was the perfect opportunity to do that."
The AusTRAILER Day Giveaway also attracted widespread media attention, including coverage on SAFM, Fresh 92.7 and Triple M.
"We just wanted to say thanks a lot to everyone who entered the competition, and for all the great feedback you give us on social media. Keep supporting Australian made!" added Sam.
Congratulations to Kurt and we are sure you're going to get plenty of mileage out of your new tipper trailer for many years to come.
We don't want to make anyone too jealous, but the tipper trailer Kurt towed away from our Pooraka workshop has some pretty impressive specs:
MODEL: 8X5 Tipper Tandem Axle Trailer
ATM: 1990KG
AXLE/S: 45MM SOLID 1045 – SL 1400KG RATED EACH
SUSP: 7 LEAF ROCKER ROLLER – 3000KG RATED
BRAKES: MECHANICAL
COUPLING: 50MM BALL OVERRIDE
HYD. CYL: MULTISTAGE 5000KG
POWER UNIT: 12V 1.5KW 1.6CC
BATTERY: 12V 80AH DEEP CYCLE
LIGHTS: MULTI-VOLT LED LIGHTS
JOCKEY: 8" SOLID WHEEL
REGO: NO
SPARE: YES
CAGE: 900MM HIGH CAGE 8X5
WHEELS: 15X7 235/AT FORD
EXTRAS: DOUBLE SWING TAILGATE, CAGE INSERTSINCLUDES TUBE INSERTS & SKID RAILS