High-end Custom Design
At Basic Trailers, we pride ourselves on being one of the most innovative and responsive trailer builders in Adelaide. We use high-end CAD simulation software and CNC machinery to create unique trailers tailored to our customers' precise specifications.
Watch our design process in action...
The Key to Quality Trailer Design
At Basic Trailers, we're all about meeting your specific needs, whether it's a custom trailer for your business or something from our existing range. How do we do it? Here's a brief look at our approach:
1. Flexible Design with SolidWorks CAD
Our trailers are crafted using SolidWorks CAD software, the gold standard in engineering design. This powerful tool lets us turn ideas into accurate 2D and 3D designs, complete with motion and stress analysis. We can experiment, innovate, and
2. Meeting Australian Standards
With CAD simulation, we understand what materials and processes are needed, ensuring our unique trailers meet Australian Design Rules (ADR) and other relevant safety standards.
3. Cutting-Edge Manufacturing with CNC Machinery
We combine CAD with CNC machinery for precision and creativity. This tech-savvy approach replaces operatorcontrolled equipment, ensuring high quality and efficiency.
4. Innovation and Value
Our use of CNC machinery lets us push boundaries, be more creative, and offer the best quality trailers at the best value for money.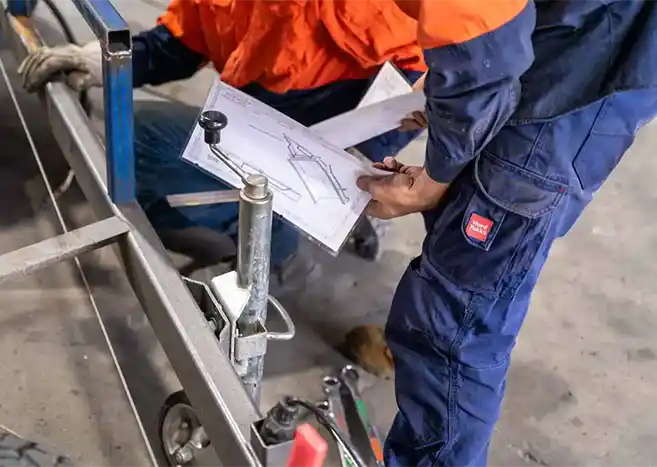 Talk to our team about Custom Design
Our commitment to quality, innovation, and value is what sets us apart. From the initial design to the final product, we're here to create the perfect trailer for you. Whether you need something custom or choose from our Australian-made range, you can trust Basic Trailers to deliver. Come see the difference for yourself!