I'm Really Proud to Say I Own Basic Trailers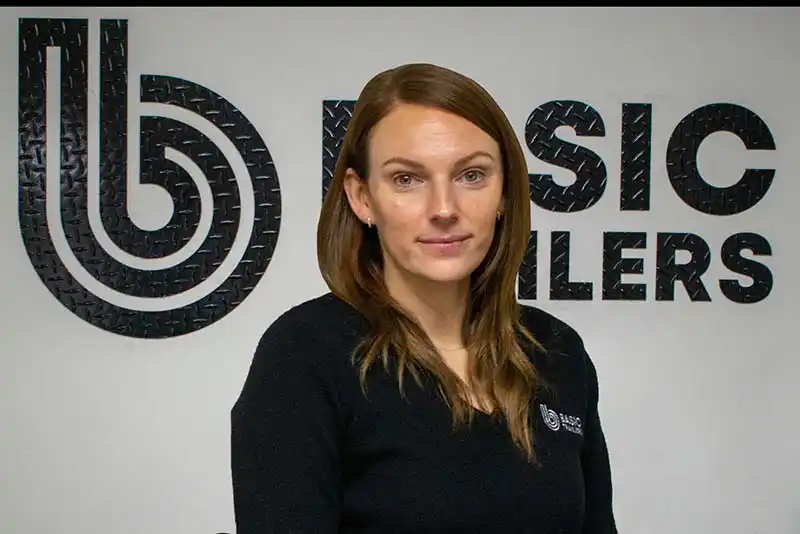 Basic Trailers Director Leah Bubner is a proud finalist in the 2022 SA Woman Awards, celebrating South Australian women in business and careers. Leah has been nominated in The Soar Award category, recognising women who have run their own business for more than two years, and have overseen growth in turnover of 200K or more.
Anyone who has bought a trailer from Basic Trailers, or has visited our workshop in Pooraka, will more than likely have met our Director, Leah Bubner. For many customers, Leah is their first point of contact with us, and she embodies everything that Basic Trailers is about.
From child care to customer care
Leah's journey to successful business owner has been an unexpected one. Having spent fifteen years working in childcare, going from that to running a thriving trailer manufacturing business has been quite a leap. Likewise, the expansion of the business has also been rapid and faster than was anticipated.
When Basic Trailers first opened its doors in 2018, the business essentially consisted of Leah, partner Sam, and a friend who would help out in the workshop after hours once they had finished their day job. It was three or four months before they were able to take on anyone full time in the workshop, but after six months the business had already grown to have five members on the team.
Now, one of the things that Leah is most proud of is that in only four years, Basic Trailers is able to employ 24 people in all areas of the business, and has expanded not only into larger premises, but also into a range of new product lines as well.
The challenge of starting a business from scratch
Leah's own growth and journey has taken place in parallel with that of the business, and at times the learning curve has been steep.
However, what is clear is that a commitment to learning and self development has been behind Leah's success, especially in a such a male dominated industry as manufacturing.
"I will happily admit that I knew nothing when we started," recalls Leah. "I thought a wheel and a tyre were the same thing! I struggled at first with confidence, but I soon learnt that it was sink or swim. And the more I learnt, the more confident I was, and the more I enjoyed it."
Leah would take the time to listen and learn, writing information down and interpreting it in her own words so that she was better able to understand it, and then communicate this to others. In this way, she grew into the role, learning along the way about suppliers and systems, working with customers (including learning how to say no them when required), and coming to understand more fully the many different aspects of the manufacturing industry.
The fact that wherever you are in Adelaide or South Australia, you will see a Basic Trailers trailer on the road is a testament to just how successful she has been.
Despite this, however, Leah does still occasionally find that a male customer will try to talk over her, or can't quite manage to accept that she knows anything about trailers!
Learning how to grow and run a successful business
As well as the industry-specific knowledge Leah has acquired, she has also had to learn about the many intricacies involved in running a business — something of which she had no previous experience.
"I had never run anything before, so I had to start from the ground up. What are current pay rates? How do I pay super? Where can we get uniforms from? I had to learn all of these sorts of things as I went along.
"What added to the pressure was the fact that I had responsibility for all the people on the team, making sure they were paid properly and on time, and everything else that goes along with being an employer."
In Leah's experience, asking questions and being excited about learning new things is essential to running and growing a successful business. As she explained, "I love needing to find out things, and then inspiring people with what I know."
This has been reflected in the realisation that, as the business has grown, Leah has also had to learn to delegate more. She has also come to appreciate the value of creating and implementing systems and procedures so that she doesn't have to be here, there and everywhere all the time.
Having said that, Leah doesn't envisage stepping back from her role any time soon. "I enjoy the routine, the structure, and am proud of the systems and culture we have created. I could probably have a little more time away, but I feel guilty if I'm not here!"
A family business with family values
By any metric, the growth of Basic Trailers over the last four years has been exceptional. In Leah's view, there are a number of reasons for the business' rapid growth, despite competing in a market where there are some very well-known, long established names.
One of the key factors has been the customer experience. "People can relate to us as a family business," reveals Leah."In the earliest days, people would come in and our son Charlie was here, wiping cheese down the window!
"We have always been down to earth and bent over backwards for our customers, and I think this helped persuade people to give us a chance, despite being a new name in the industry."
Why Australian made matters
In Leah's view, being seen very much as a local Adelaide company has also been a big reason for Basic Trailers' success.
"It seems as though there has been a shift since covid," explained Leah, "as people have begun to place more importance on local products. Because we only use Australian-made steel in our trailers, and we have strong local supply chains, we've always been able to have trailers in stock.
"We don't have to wait for things to come in from overseas, and this really reduces our lead times so that our trailers are ready to go, meaning people don't have to wait to get the trailer they need.
"Customers really appreciate our commitment to local, especially in an industry where there are so many inferior, imported trailers around."
How the future looks for Leah and Basic Trailers
Leah and Sam both continue to be motivated by the desire to provide for their family and to be an inspiration to their children. As part of this, Leah continues to develop her business skills and experience, and has abandoned her original plan of going back to childcare once Basic Trailers was up and running.
"I have been able to create my own role, and develop the ways in which I contribute to the business. And this means I still surprise myself every day.
"Looking back, we have done a lot in a short space of time, but most of all, I am proud that I am able to say that I own Basic Trailers."