The Benefits of a Hard Working Mower Trailer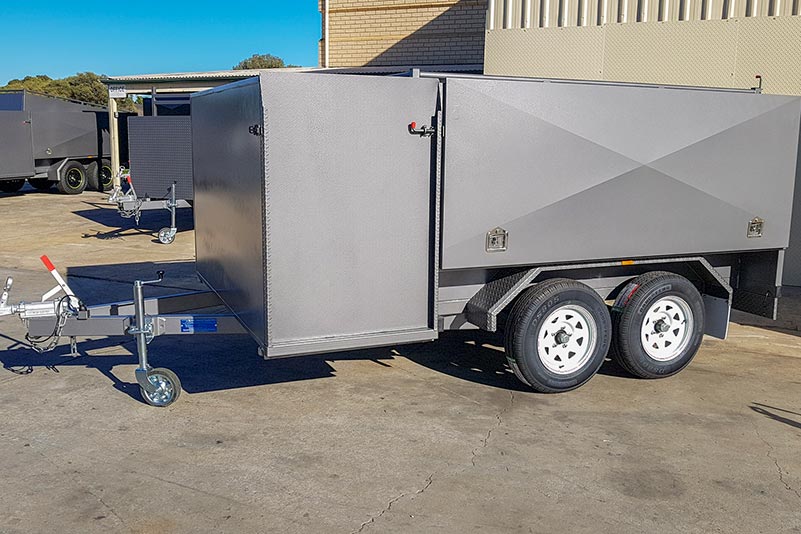 One of the most versatile ranges of trailers we produce are our lawn mower trailers. We design and manufacture both single and tandem axle mower trailers in a range of configurations to meet your specific needs, with the option to customise your trailer with a range of added features.
Ease of use, convenience and accessibility are key to our Adelaide lawnmower trailers, and they can be designed to provide a variety of storage and towing options for any landscaping, gardening or mowing business operator.
What's more, our trailers are built using 100% Australian steel and so offer exceptional value for money and long operating life, and we have a range of models to choose from depending on the amount of kit you need to carry on a regular basis.
Single axle mower trailers
Our range of single axle mower trailers includes 6x4, 7x4, 7x5, 8x4 and 8x5 models.
These lawn mower trailers can include features like full width ramps for ease of loading and loading, caged or enclosed mower boxes to keep your machinery safe, and be fitted with tool boxes for extra storage and convenience.
In addition, our single axle lawnmower trailers feature all of Basic Trailers' hallmarks, including a solid 45 mm square premium 1045 grade steel axle, 7 leaf eye slipper spring suspension, and a 50 mm override tow coupling (2,000 kg rated).
Tandem axle lawnmower trailers
We currently produce a range of tandem axle mower trailers, including 8x4, 8x5, 8x6, 10x5 and 10x6 models.
These are highly versatile trailers and can be set up in a variety of different ways depending on how much equipment and kit you need to carry regularly.
Features that come as standard on our lawnmower trailers include:
• Full length side toolbox with shelf
• Enclosed mower box with checker plate ramp
• Rear mesh barn doors
• Top tie rails
Our tandem axle trailers for mowers can also be fitted with a variety of upgrade features, so they can better meet your specific needs, such as:
• Additional side toolbox with shelf
• Full width ramp (with helper spring)
• Dual mower box
• Mower box shelf and side access door
• Toolbox
• Flush floor tie points
• Jerry can holder
Click here to see the full range of upgrades available for our lawn mower trailers.
Tipper mower trailers
Our 8x5, 10x5 and 10x6 mower trailers are also available in a tipper version.
As well as the features described above, our tipper mower trailers feature a 4,500 kg rated, telescopic 4 stage hydraulic cylinder, as well as a 12v hydraulic power unit and supercharge D50Z 80ah deep cycle battery.
Our hydraulic tipping trailers are ideal for a range of applications, including landscaping, gardening, earthworks and excavation. They are durable and robust, and can be used for carting any sort of loose load, such as sand, rubble, soil, grain, aggregate, lawn clippings or garden waste.
Adelaide Mower Trailer Specialists
If you run an Adelaide mowing, gardening or landscaping business, our versatile range of lawnmower trailers can be configured to meet your specific needs.
Built to last and offering exceptional value for money like all the trailers in our range, our mowing trailers are available to tow away from our Pooraka workshop straight away, or talk to us about a how we can design a customised lawnmower trailer to suit your purposes.
If you want to find out more about our range of mower trailers, please feel free to call us on 0477 799 871 or email us.