Keys to Designing the Best Lawn Mower Trailers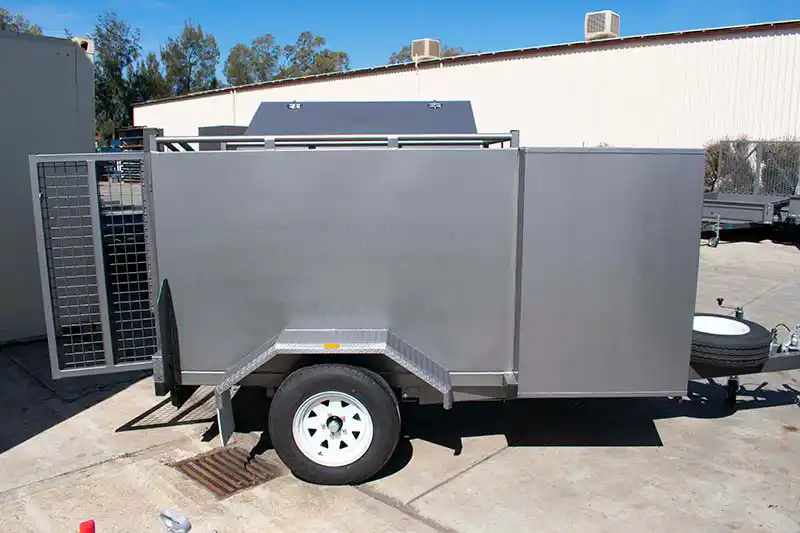 At Basic Trailers, we have refined several of our hugely popular lawn mower trailer designs in response to our Adelaide customers' different needs. This means you now have a variety of trailer designs and configurations to choose from, as a result of people who work in the lawn mowing, landscaping or ground keeping business sharing with us what they want in a lawnmower trailer.
We can also work with you to customise a mowing trailer to include a range of features, upgrades and extras so that it has the right sort of layout and set up for you to operate as efficiently as possible.
In these difficult and challenging times, we are also very conscious of the need to offer reliability, long operating life and value for money. That's why our trailers are designed and manufactured in our Adelaide workshop using 100% Australian steel, and why we use components sourced from local suppliers and manufacturers.
There has always been a strong demand for single axle lawnmower trailers, and our range now includes 6x4, 7x4, 7x5, 8x4 and 8x5 models.
There are key design features that our single axle mower trailers can include, such as enclosed or caged mower boxes designed to keep your kit safe in transit, full width ramps to make it easier to load and unload your mower, and tool boxes and other storage compartments configured so that your tools are stored and transported securely.
We also value security as much as you do, and understand how costly it can be to your mowing, gardening or landscaping business if tools and other equipment are stolen from your trailer. That's why our mower trailers are designed with security in mind, and manufactured to include doors and access points that can all be securely locked.
Other key features of our single axle Adelaide mower trailers include a solid 45 mm square premium 1045 grade steel axle, 7 leaf eye slipper spring suspension, and a 50 mm override tow coupling (2,000 kg rated).
We have extended our range of lawn mowing trailers to include tandem axle models, now available in 8x4, 8x5, 8x6, 10x5 and 10x6.
All of our mower trailers are designed to be versatile and able to be set up in a variety of different ways, according to the type and amount of equipment you carry as part of your business.
Standard features on our tandem axle mowing trailers include:
• Enclosed mower box with checker plate ramp
• Full length side toolbox with shelf
• Top tie rails
• Rear mesh barn doors
However, we can design a custom mower trailer that incorporates a range of upgrades and other features so that you can have it set up in precisely the way you want it, such as:
• Full width ramp (with helper spring)
• Dual mower box
• Mower box shelf and side access door
• Additional side toolbox with shelf
• Flush floor tie points
• Toolbox
• Jerry can holder
Feel free to get in touch to discuss these and any other trailer upgrades you would like to include as part of a custom mowing trailer design.
Many of our customers told us that a tipping mower trailer would be a welcome addition to the Basic Trailers range, and so we now design and manufacture tipper versions of our 8x5, 10x5 and 10x6 mower trailers.
In addition to the standard features that come with all our lawnmower trailers, our tipping trailers are equipped with a 4,500 kg rated, telescopic 4 stage hydraulic cylinder, as well as a 12v hydraulic power unit and supercharge D50Z 80ah deep cycle battery.
You also have the option of adding upgrades and other features to a tipper mower trailer so that it can better meet the precise needs of your business.
Drive away today with Trailer Pay
We don't only offer flexibility in the way our lawn mower trailers are designed and manufactured, but also in how you can pay for them.
You can buy a brand new mowing trailer from our Adelaide workshop and tow it home the same day using Trailer Pay. This enables you to make an initial deposit and then pay off the rest of the balance in affordable weekly instalments over a set period of time. Using Trailer Pay means you can upgrade to the sort of high quality trailer your business needs while managing your cash flow at the same time.
We can also register your new trailer on the spot, so you can get down to work without delay.
Our versatile range of Adelaide lawnmower trailers can be configured to meet the specific needs of anyone running a mowing, gardening or landscaping business, Designed and manufactured by the in-house team at our Pooraka workshop, our mowing trailers are built to last, offer exceptional value for money, and come with a 12-month warranty.
If you want to find out more, please feel free to call Sam on 0477 799 871 or email us and we can help you choose the right sort of mower trailer to meet your needs.