Is an enclosed trailer or a cage trailer the right choice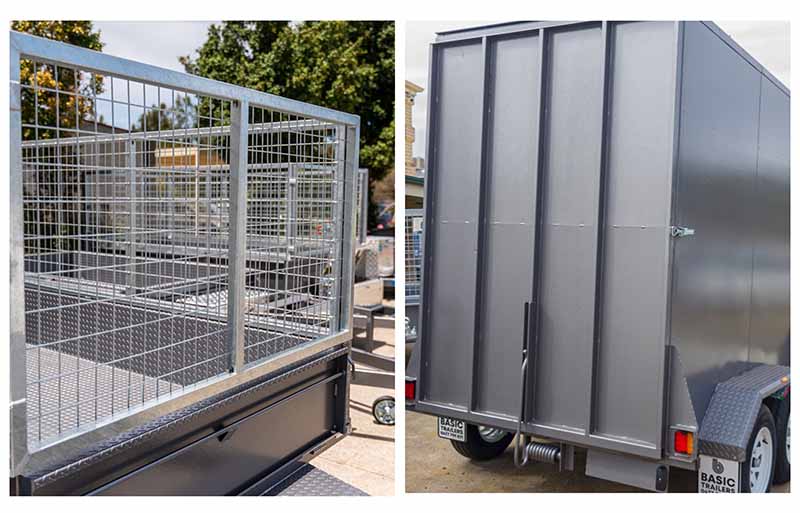 If you use a trailer for work, for carrying plant and other equipment, for camping and recreation, or for towing long distances, you might be trying to decide whether an enclosed trailer or a cage trailer will best suit your needs.
We design and build a range of enclosed and box caged trailers at our Adelaide workshop, and our team can help you make the right choice depending on the work you do, the loads you carry, and the sort of distances you travel when towing.
In the meantime, here are some tips for helping you make the right decision — enclosed trailer or cage trailer?
Why should I buy an enclosed trailer?
One of the key benefits of enclosed trailers is that they give you greater security. Our enclosed trailers are extremely strong and tough, and all access points can be securely locked. This means that when you are parked up overnight or for extended periods of time, you won't have to constantly unload and then reload your trailer.
Particularly if you're using your trailer for business, saving time in this way can also save you money, as you're not losing earning time packing and re-packing at the start and end of each working day.
Enclosed trailers protect your gear
Similarly, with an enclosed trailer you don't have to be concerned about tools, bikes or other kit that you're transporting being exposed to the elements. For instance, when you are on the road there's no worries about debris, fumes or insects harming your cargo. Likewise, you won't shed your load as you tow, even when you're on unsealed roads, worksites, or rough terrain.
When you are parked up, rain and hail, trees and birds are not going to be able to damage what you've got onboard.
An enclosed trailer will also provide you with plenty of options when it comes to customisation. especially in terms of how you organise the internal and external storage. We can work with yo to custom design and install shelves, tool racks, hooks and other features to help keep your trailer organised, as well as racks on the roof or side for carrying outsized kit and materials, like ladders and pipes.
You can load an enclosed trailer with ease
We design and manufacture enclosed trailers either with rear tailgates or with barn doors (two door that open outwards).
The tailgates on our enclosed also act as a ramp, and this makes it very easy to load and unload plant, motorbikes, quad bikes and other vehicles. Barn doors are a good choice if you use your enclosed trailer for work, as they can be utilised for additional rack and storage space. Barn doors can also be a good option if you need to operate regularly in places where space is tight, and a tailgate ramp isn't always feasible.
A cage trailer also comes with a number of benefits, depending on your needs and the sort of loads you carry.
Generally speaking, cage trailers will be lighter to tow and easier to manoeuvre, meaning there is less wear and tear on your vehicle. A cage trailer will also be easier to park whether at home or at work due to the fact that you are more easily able to see over the top of a cage trailer than an enclosed trailer.
There can also be more versatility with a cage trailer in terms of what you can carry. For instance, the loads in a cage trailer can extend well above the sides (although there are regulations that you need to follow about this), and so provided the load is secured, you can carry items that are wider or longer than the trailer, which you can't do with an enclosed trailer.
You can also carry garden or green waste more efficiently with a cage trailer, provided you cover it and ensure the load is secure. A cage trailer is also easier to clean up afterwards when you've been carrying lawn cuttings and other garden waste.
If you are looking to buy an enclosed trailer in Adelaide, or are thinking of a cage trailer but aren't sure which one is right for you, then talk to the specialists at Basic Trailers. Call us on 0477 799 871, email us or drop in to our trailer workshop at Pooraka, and we will be happy to talk through the options with you.