How to order a new trailer in Adelaide online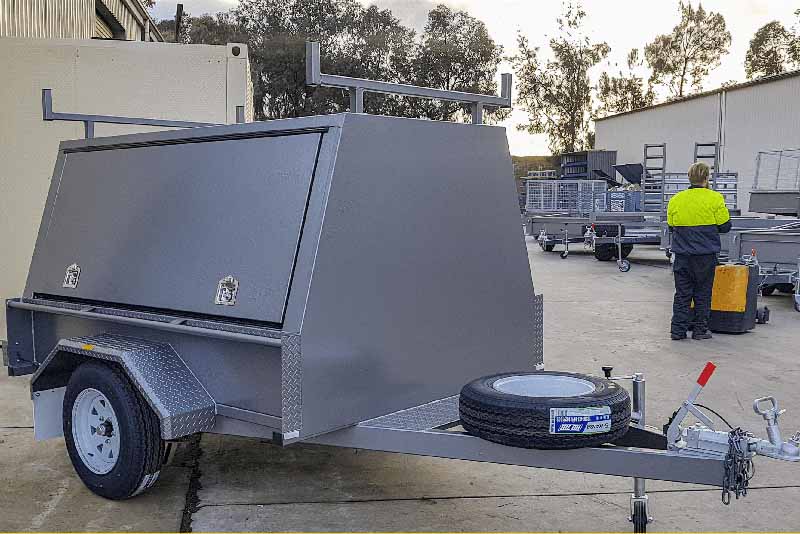 One of the many services we are proud to offer our customers is the ability to order, customise and buy a new Adelaide trailer online.
Our state-of-the-art website is set up to make the whole process of buying a new trailer from Basic Trailers as quick, easy and straightforward as possible. It is not only simple to access the full range of our locally-made trailers on our website, but it's also very simple to choose and add a wide range of accessories, upgrades and additional features so you can customise your trailer to meet your specific needs.
How to order a new trailer from Basic Trailers
The first step to buy a new trailer in Adelaide is to go to our Trailer Range page. From there, choose the category of trailer you want to buy, and then within that category choose the dimensions and other essential features.
For instance, if you are looking for a tipper, click through to the Tipper Trailer page. Scroll down, and you will see the full range of tipping trailers, e.g., hydraulic flat top tipper trailers, mower tipper trailers, tipper single axle trailer, tipper tandem axle trailer, etc.
From here, choose the type of trailer and the dimensions, and click to go through to the next page.
On the left hand side of the page featuring your chosen trailer, you will see a tab called Specifications, which lists the materials and components used in the construction, e.g.,chassis dimensions, drawbar and floor construction, suspension and axles, etc.
Next to that is another tab headed Accessories, which describes other features that are included, such as mudflaps, lights, safety chains, etc.
On the right hand side of the page, you will see a list detailing the range of upgrades and accessories that you can add to your trailer, such as registration, electric brakes, tie points, or a jeez can holder (you may need to expand some headings to see the complete list). From here, you can even upgrade the ATM of the tailer, or turn a tandem axle trailer into a tri-axle.
To add any of the features in the upgrade section, simply click the check box next to it. Not only is this feature added to your trailer, but the overall price you will pay for a new trailer automatically updates as well.
Get a free no obligation quote for a new Adelaide trailer
Once you've completed these steps, you have two options:
• Click add to cart to continue and complete your new trailer purchase
• If you want to think about it a little further, if you click the Print Quote button and complete your details, you will be able to download details of the trailer with all upgrades and accessories included. A copy of this will also be emailed to you and the price quoted will remain valid for 30 days.
If you can't get to our Pooraka workshop in person, ordering a new trailer online is the next best thing. And as you can see, it couldn't be simpler.
How much does a new trailer from Basic Trailers cost?
One of the best things about buying a new trailer from Basic Trailers — whether in person or via our website — is that you will always know in advance exactly how much you have to pay. Our online service is especially handy if you're busy on a job or worksite all day, or live and work in regional SA and so can't get to us, or you have to order your new trailer outside of normal business hours.
We will always make it clear which features come as standard, and which are upgrades that come with an additional charge. To make it even easier, this is all automatically included in your quote.
Our completely transparent pricing policy is widely appreciated by our customers, as you aren't hit with any surprises when it comes time to settle up — plus, you know precisely which of our many features and accessories your trailer is going to come with.
In addition, we also make it easy to tow now and pay later with Trailer Pay— just click on the Trailer Pay button to find out more.
The Basic Trailers transparent pricing policy means you are always in the loop about how much a new trailer costs. Even when you want to customise a trailer and add a range of extra features, you will always know how much it is going to cost you — crucial to any business' bottom line.
If you want to find out more about how and where to buy a new trailer in Adelaide, call Sam on 0477 799 871, or check out our Trailer Range pages to find out more.