How to customise your Adelaide tradesman trailer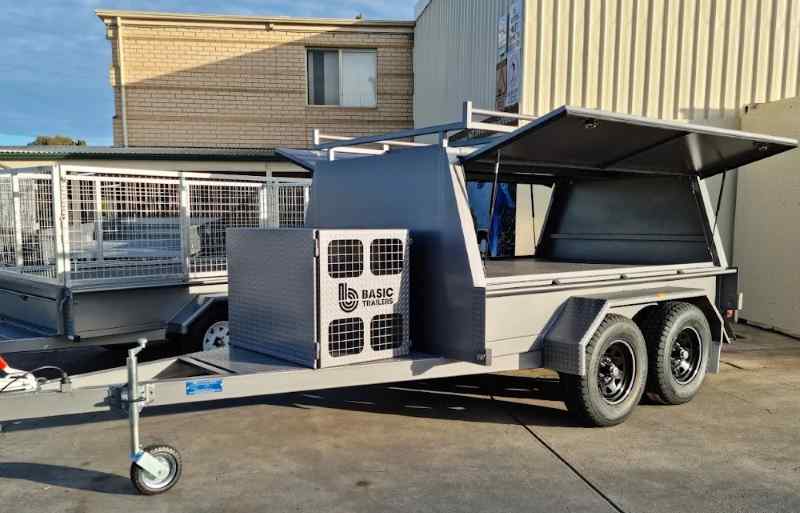 Every tradie works differently — different locations, different jobs, different teams, and so on. That's why at Basic Trailers, we offer a wide range of extras and upgrades that you can include so that your tradesman trailer can be customised more specifically to meet your needs.
This applies to our full range of single axle and tandem axle enclosed tradie trailers, which can be customised with a variety of features designed to meet your onsite and transport requirements, and to make sure your working day is as productive and efficient as possible.
Our custom tradie trailers are ideal for any hard working industry, so If you're an electrician, a handyman, a carpenter, or a plumber, or you work in construction or landscaping business, we can produce a custom built trailer that's set up to do everything you need it to do.
Tradesmen trailer custom features
We can help set up and configure your Adelaide tradie trailer with a range of upgrades and extra features so that it works in the way you want it to.
Our tradesman trailers can be customised and upgraded with a range of features including (but not limited to):
• Up to 4.5 tonne ATM upgrade
• Roof racks
• Ladder racks
• Tie rails
• False floors
• Jerry can holders
• Gas bottle holders
• Customised tool boxes
• Customised shelves and secure storage
• Front compressor boxes
• Centre mesh dividers
• Lift up, side swing and drop ramp doors
• LED trailer lighting
These are just some of the options available. We use CAD software and CNC fabrication processes so that we can design custom built entirely tradie trailers to your unique specifications — call us on 0477 799 871 to discuss your specific requirements in more detail.
How to prevent theft from your Adelaide tradie trailer
Any tradie knows how costly it can be to have tools, machinery and equipment stolen from your trailer. Therefore, security is always a priority, both onsite and when you're parked up at home, as well as when you're on the road travelling to a job.
This is why all of the doors and access points on our work trailers are designed to provide a strong barrier that can be securely locked, making it harder for anyone to break in and steal your kit.
We can also set up your trailer so that everything is kept securely in place when you're driving. You can include a variety of custom designed storage racks and other features so that tools and other items don't get dislodged, always a risk when you're on country roads or a worksite.
A well-planned and constructed interior can save you time and money through protecting your valuable work assets.
Get great value when you buy a trailer from Basic Trailers
There are always times for any sole trader or small business when cash flow can be an issue, but this doesn't need to prevent you from upgrading your worksite trailer.
Our Adelaide custom tradesman trailers can all be purchased using TrailerPay. For a minimal deposit, followed by affordable weekly repayments over a set period of time, you can get straight down to work with a new trailer without having to wait.
What's more, our heavy duty trailers are manufactured specifically for use in construction, transport and other industries where you need strength and reliability. This is why our heavy duty trade trailers are designed specifically to give you long and cost-effective operational life, adding value to your assets and your business.
You should also remember that if you're an Adelaide tradie, you work in agriculture or construction, or you run your own business, instant asset write-off means that you can claim an immediate deduction for the business portion when you buy an asset up to the value of $150,000 in the first year that you use it.
Not only does minimise your tax obligations, it is also an incentive to ensure that you have the right sort of trailer you need to do the job properly.
Call Sam on 0477 799 871 or email us to find out more about the range of options available to customise a tradesman trailer so that it meets your specific needs.