Custom Trailers Designed and Built in Adelaide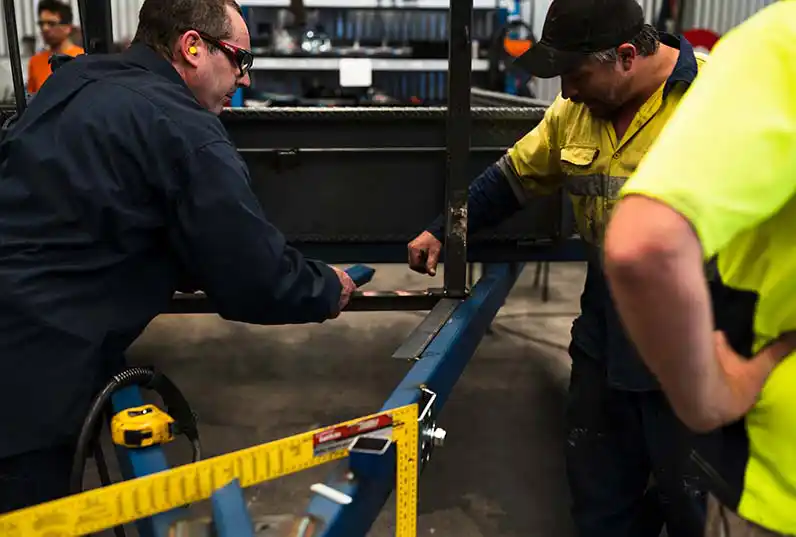 One of the many benefits of Basic Trailers moving to bigger premises in Pooraka is that we are now able to produce an even greater range and variety of custom-built trailers.
We can design and build a customised trailer to your precise specifications and to meet your specific needs. Whether it's for work, business or for recreation, we can produce a custom trailer that will do everything you need it to do — in the way you need it to do it.
Custom trailers for work
Two of the most common requests we receive for custom built trailers are from Adelaide tradies and farmers across the state.
If you use a trailer every day at work, it makes sense that it is set up in such a way that it makes your life easier. We can build a customised tradie trailer that is configured in the exact way that you need it, in terms of the capacity, dimensions and ATM. We can incorporate all of the features that you need with regard to storage, security, accessibility, etc., and no matter how unusual or elaborate the concept, we can bring it to life and get your custom built trailer on the road.
Whether it's a customised tipper trailer, car trailer, or stock crate trailer, we can design and fabricate a trailer in a style to suit your needs. We can also manufacture dolly trailers and dog trailers that can incorporate a range of different features, all of which can be designed to almost any specifications.
Customised trailers for travel and recreation
If you like to hit the road regularly and get away from it all, Basic Trailers can design a custom trailer that enables you to get the most out of your travel or holiday experience.
Our range of customised trailers includes bike and motorbike trailers which can be customised to carry any number of bikes, as well as all your helmets, clothing and other accessories. We can build bike trailers to any sort of design and dimensions, and with suspension and ATM that enables you to head off-road on all types of terrain.
For those who like to travel and see more of South Australia and beyond, we can also design and build custom camper trailers. These can be personalised in a way that meets the needs of you and your family when you're travelling, and are manufactured to take on all sorts of road conditions.
How do we design and build our custom trailers?
You might have a very clear understanding of how you want your custom trailer to look and function, or perhaps you just have an initial idea rather than a complete concept in mind. In either case, we can help you take your plans from these early stages right through to manufacture and getting your trailer on the road.
As part of the custom trailer design process, we employ high-end CAD simulation software which means we can produce very accurate designs in both 2D and 3D which can then be rotated and viewed 360°. This makes our design process very flexible and allows us to be as creative as possible in order to meet your specifications, while also gaining an understanding of what sort of materials and processes will be required in the production stage.
When it comes to fabrication, we use CNC (computer-numerical control) machinery in a number of our processes, which ensures high quality, cost-effective production, and enables us to create unique and customised components for use in our custom-built trailers.
Talk to Basic Trailers for all your custom trailer needs
At Basic Trailers, we pride ourselves on being one of the most innovative trailer manufacturers in Adelaide. Our wide-ranging design experience and manufacturing expertise enables us to create unique, one-off trailers built to meet your work, business or recreation needs.
If you want to find out more about our custom-built trailers, and how you can bring your own trailer designs to life, call Sam on 0477 799 871 or get in touch via email and we will be happy to talk more about how we build our custom trailers.