How to Use a Tipping Trailer Safely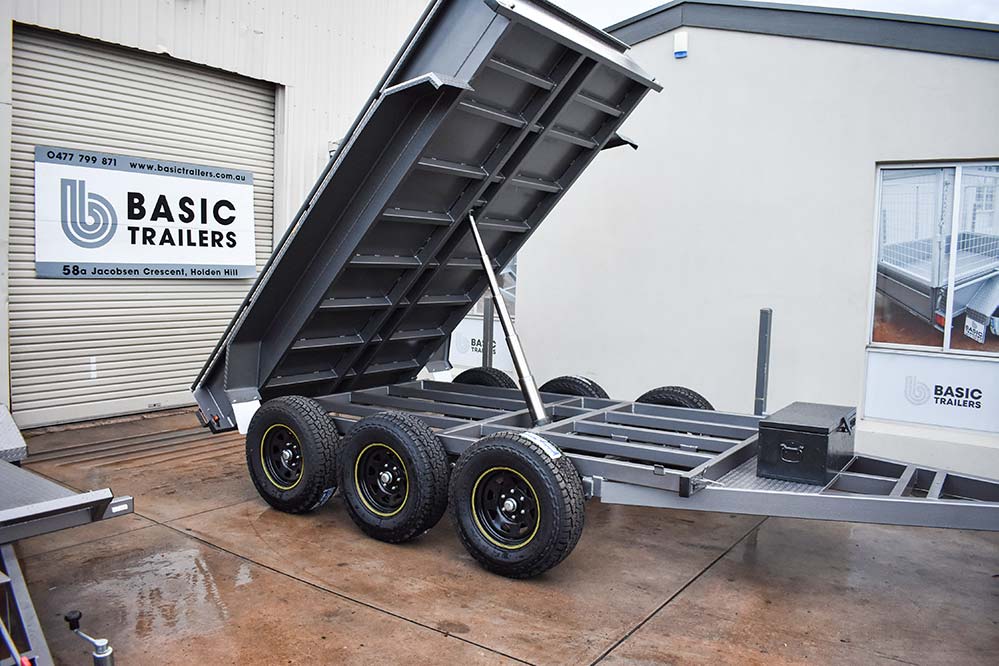 At Basic Trailers, we manufacture a range of tipping trailers in Adelaide suitable for use across a variety of work environments and applications. However, a tipping trailer does bring with it some operating risks that users need to be aware of in order to use a tipper trailer safely.
Loading a tipping trailer
There are some basic guidelines that you should follow when loading a trailer, and these apply particularly to tipping trailers.
Firstly, you need to be aware of your trailer's Aggregate Trailer Mass (ATM), which is the combined weight of a trailer when it is fully loaded but not coupled to a towing vehicle. (Our tipping trailers have a 1,900 kg ATM as standard, but we can upgrade the ATM to as much as 4,500 kg, if required.) You need to ensure that when loading a tipping trailer, you don't exceed its maximum carrying capacity if you want to be able to tow it safely and legally.
It is also important that the load is properly distributed in order to prevent swaying and to ensure that the trailer is stable, both when it is being towed and unloaded. This means that the load shouldn't be piled too high, and that about 60% should be in the front half of the trailer, with the remaining 40% of the load in the back half.
How to unload a tipper trailer safely
It is generally an easy and straightforward process to unload a tipping trailer, although there are some unique factors that need to be borne in mind in order to ensure that your tipper is being operated efficiently and safely.
Check the clearance
Before you raise the trailer tray, check that there is sufficient clearance so that the tray won't be impeded when it is lifted.
Ensure the ground is level and stable
Raising the tipper tray changes the centre of gravity on your trailer, so you need to ensure that the trailer is positioned on ground that is relatively flat and even. The most common cause of workplace incidents involving tipping trailers is when the trailer becomes unbalanced as the tray is raised, causing it to topple over on its side. This can be avoided if you ensure the trailer is parked on level, stable ground which is well compacted.
Keep clear
Whenever you're raising or lowering the trailer tray, it's important to stand clear to avoid getting your body or clothing trapped in either the hydraulic mechanism or the body of the trailer. As far as possible, you should also avoid getting under the tray when it is raised, to avoid potential injury if it is lowered unexpectedly.
Tipper Trailers in Adelaide from Basic Trailers
Our hydraulic tipping trailers are ideal for use all types of applications, including earthworks, excavation, construction, building, landscaping and gardening. We pride ourselves on manufacturing durable and robust tipper trailers from 100% Australian steel that can be used for carting any sort of loose load, such as sand, rubble, soil, grain, aggregate, lawn clippings or garden waste.
The Basic Trailers range of tipper trailers includes:
Our Adelaide tandem tipping trailers all feature as standard a telescopic 4 stage, 4,500kg rated hydraulic cylinder, 12v hydraulic power unit and Supercharge D50Z 80ah deep cycle battery. Other features include a 100x50x3mm RHS drawbar and 2.1mm checker plate floor with rolled 350mm high sides, plus a 2,000kg rated 50mm override tow coupling.
Further standard features on our tipping trailers include 7 leaf eye-slipper springs suspension, solid 45mm square premium 1045 grade steel axles, and mechanical disc brakes and calipers.
Upgrade your tipper trailer
Basic Trailers can customise your tipping trailer with a range of upgrades so that it meets your precise needs.
For instance, you can add rocker roller suspension, front axle electric brakes, or larger, Land Cruiser tyres and rims. If you need to carry heavier loads, we can upgrade a tipping trailer so that it has a 2 tonne ATM, 3.2 tonne ATM, 3.5 tonne ATM or 4.5 tonne ATM, and we can also produce tri-axle tipping trailers if required.
In addition, we can also add a double swing tailgate to your tipper trailer, a feature that makes it easier to unload and spread as it swings open from both the top and the bottom.
To see our full range of tipping trailers, feel free to visit our Holden Hill workshop or call Sam on 0477 799 871. You can also get in touch if you are looking for a custom built tipper trailer, or want a trailer with modifications in order to meet your specific needs.