Flat Top Trailers vs. Box Trailers – Which One Should You Choose?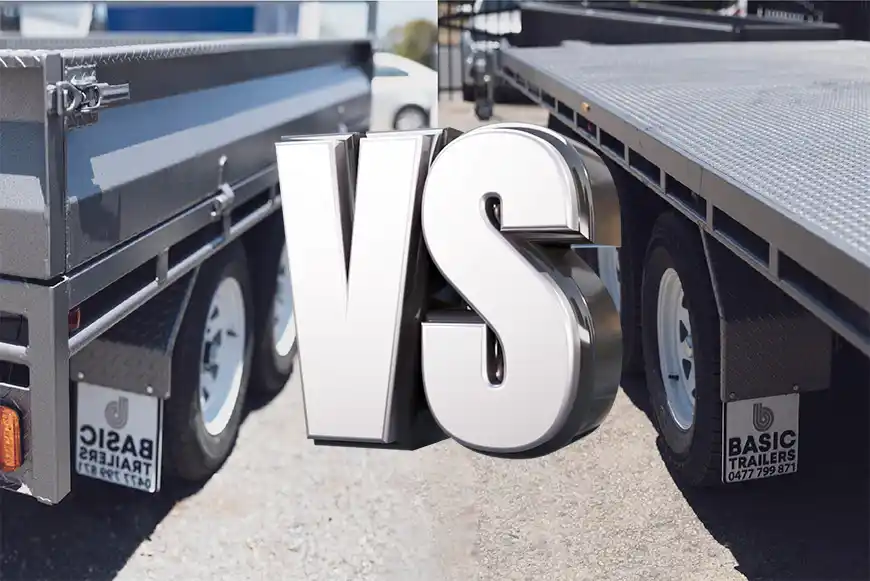 At Basic Trailers, we design and manufacture a large range of box trailers and flat top trailers. Both of course are built to our usual impeccable standards, and so the type of trailer you choose will depend on how it is to be used and the sorts of loads you tow.
Below, we discuss the relative merits of each type of trailer and which one is likely to be right for you.
Both box trailers and flat top trailers come in a range of sizes, and are available in both single axle and tandem axle models depending on your needs.
Box trailers range in size from 6 x 4 up to 10 x 6 in single axle models, while our tandem axle box trailers are available in sizes ranging from 8 x 4 right up to 20 x 6.
Our flat top trailers are also available in a variety of sizes, ranging from 8 x 6 up to a massive 24 x 8.
What this means is that you can always find a size of trailer that meets your purposes.
In addition, our box trailers and flat top trailers are both highly versatile and can be adapted with a range of add-ons and trailer upgrades so that they are better suited to your specific needs.
For instance, both can operate as either static or tipper trailers. Box trailers, ranging in size from 7 x 4 up to 14 x 6, can all include a hydraulic tipper, making it significantly easier to carry and then unload a variety of materials.
Box tipper trailers are therefore ideal for transporting loose loads, such as soil, sand, rubble, aggregate, grain, garden waste or lawn clippings, and are a great option for anyone working in building and construction, earthworks and excavation, or landscaping and gardening.
Likewise, our flat top trailers can also feature a hydraulic tipping mechanism, making them the perfect trailer for carrying vehicles and other sorts of heavy mechanical or industrial loads.
Upgrades for flat top trailers and box trailers
A wide range of other upgrades are available for both flat top trailers and box trailers.
For example, you can upgrade the ATM of both types of trailer, as well as the suspension, brakes and size of tyres and rims. You can also add ramps, tool boxes, rope rails and more.
Therefore, what both of these trailer styles have in common is that they can be adapted and upgraded to suit your purposes.
What is the difference between flat top trailers and box trailers?
The way flat top trailers and box trailers are constructed means that they serve different purposes and are designed for different types of loads.
Box trailers are built to keep loads firmly in place and prevent them from shifting while you're towing. To help do this, box trailers can also be fitted wth high sides or cages, to further ensure that loads stay safe. They can also be fitted with or stock crate sides in order to transport livestock.
Flat top, or flatbed trailers, are essentially a platform and so do not have sides (although they can be fitted with a headboard or H frames, if required). Flat top trailers can therefore also be used on a worksite as a stable work space.
Having no sides also means that flat bed trailers are quite versatile, and can carry items that are challenging to handle, such as vehicles, plant and machinery. Flat top trailers will also generally have greater capacity (ATM) in order to tow these heavier loads.
We also manufacture a range of flat top trailers that are specifically designed for carrying cars and other vehicles. This includes beavertail car trailers and full floor car trailers, as well as hydraulic tilt car trailers.
Hydraulic tilt car trailers are particularly popular as there is no need to use bulky ramps, which can be difficult to manoeuvre into place and tricky to handle. A tilt car trailer also improves workplace safety as there is less manual intervention required in order to load a car or other types of plant and vehicle.
Flat top trailers can also be easier to clean, as there are no corners for dirt and debris to hide in, making maintenance a little more straightforward, important when you're using a trailer onsite or for carrying dirty plant and machinery.
Talk to Basic Trailers to find the right trailer for you
If you are considering buying a flat top trailer or a box trailer in Adelaide, and are not sure which is right for you, talk to Basic Trailers first. We will be happy to talk you through the features of our trailers and which will best suit your needs.
Call Basic Trailers on 0477 799 871, email us or call into our Adelaide trailer workshop and our expert team will always be happy to help.