Embarking on Your Trailer Journey: A Guide to Buying Your First Trailer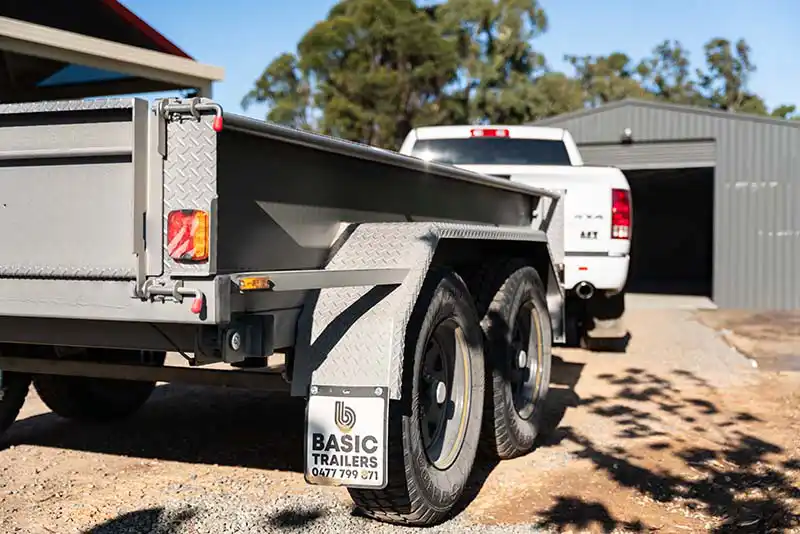 If you're buying a trailer in Adelaide for the first time, this quick guide will hopefully answer some of the many questions you will no doubt have.
At the same time, you are always welcome to contact the friendly team at Basic Trailers 0477 799 871 or email us with your questions, and we will do our best to help.
Do I need a box trailer, cage trailer or enclosed trailer?
In order to answer this question, you will first need to be clear as to the why you need a trailer (e.g., work or domestic use), the sort of loads you will be carrying, plus the terrain and distances you will most commonly cover.
Once you're clear in this regard, you can start to look at the relative merits of each of the main trailer types, and which sort of trailer will best suit your needs.
What are the benefits of an enclosed trailer?
If you feel you need a trailer that is highly secure, then an enclosed trailer may be the one for you. Tough and durable, enclosed trailers are able to be locked so as to keep your cargo safe and secure, important if you need to park up your trailer but want to avoid having to unload. An enclosed trailer will also protect your load against the weather or other damage when you're on the road or in the yard.
Enclosed trailers are easy to load
An additional benefit to buying an enclosed trailer is that they are easy to load, as they can be fitted with either a tailgate or two barn doors that open outwards. The tailgate acts as a ramp, making it ideal for loading vehicles, while barn doors can provide additional storage space by having racks and hooks fitted. Barn doors are also a good solution if you regularly use a trailer where space is limited, and where a tailgate ramp isn't going to be much use.
What are the benefits of a cage trailer?
Cage trailers tend to be easier to manoeuvre than enclosed trailers, and are also likely to be lighter. As there is greater visibility with a cage trailer rather than one with high enclosed sides, it's also easier to park, and gives you more visibility when you're on the road.
Cage trailers deliver flexibility
Cage trailers also give you a bit more flexibility in terms of the type of load you can, as items can extend above the sides or out of the rear in a way that's not possible with an enclosed trailer (although make sure you adhere to state laws regarding loading a trailer).
What are the benefits of a box trailer?
As long as you adhere to the state towing regulations (see the link above), a box trailer is probably the most flexible of the three main trailer types. The load can extend beyond the confines of the trailer sides in all directions, making it the ideal solution if you expect to be carrying a variety of different load types.
Box trailers for domestic use
The flexibility provided by box trailers is why they are the type of trailer most commonly purchased by domestic users. You can load and carry furniture, rubbish, bikes or just about anything on a box trailer, so if you are looking to buy a trailer for use at home, this is likely to be the best option.
Single axle or tandem axle trailer?
As a general rule, trailers with a greater ATM and which carry heavy loads will need to be tandem axle. Anything up to 2 tonnes can generally be carried on a single axle trailer, but if you're regularly carrying loads exceeding 2,000kg, a tandem axle trailer will be required.
In terms of other benefits, single axle trailers are easier to manoeuvre, including reversing and parking, although towing a tandem axle trailer will usually deliver a smoother ride.
How do you choose the right load capacity?
All trailers have an Aggregate Trailer Mass (known as the ATM), which is the combined weight of the trailer with its full load when not coupled with a tow vehicle. This determines the weight of the load a trailer can safely handle.
You also need to take into consideration the towing capacity of your vehicle, which will have a maximum weight capacity i.e., the maximum amount that it can safely tow. There needs to be an alignment between the ATM of your trailer and the towing capacity of your vehicle, e.g., don't buy a trailer with a 3,500kg ATM if you only drive a small car.
Whatever type of trailer you choose, buy Australian!
When you're looking at buying a new trailer in Adelaide, you'll see many being advertised as Australian Made.
However, this doesn't always tell the full story.
Many of the trailers that are labelled Australian Made are actually only bolted together in Australia from foreign-made components, and so not really manufactured in Australia at all. The workmanship on these trailers is not going to be up to the same standards as the trailers we design and manufacture in our Adelaide workshop, nor will you be supporting the local economy in the same way.
Quality is the key when buying a new trailer
At Basic Trailers, we pride ourselves on the quality of our design and manufacturing processes, and so we would always recommend a locally-made trailer rather than an import.
For instance, we undertake all the welding, painting and assembly of our trailers in house, and use only 100% Australian steel, so we can testify to the quality of the workmanship on every trailer that leaves the yard.
Unlike some other trailer sellers, everything we do is geared towards producing high quality trailers that deliver value for money and long operational life, from 3-phase welding to our use of self-etching primer, to our in-house designs and use of local components.
Need help choosing your first trailer? Talk to us today
If you need assistance to decide which style or size of trailer is right for you, or the ATM you might require, please give the friendly sales team at Basic Trailers a call on 0477 799 871, or drop into our trailer workshop at Pooraka.
We are here to help, so let us know how we can assist you on your trailer buying journey.