What does it take to build the best trailers in Adelaide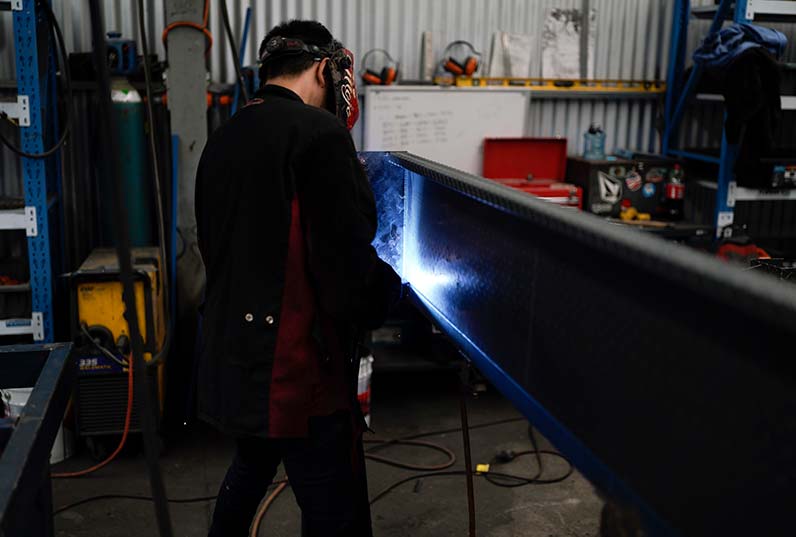 At Basic Trailers, we pride ourselves on the quality of our trailers — trailers that we think no other Adelaide trailer builder can match in terms of components, durability or value.
There is no mystery to this; ultimately, it is because our production procedures have been designed so that each stage of the process is performed by a trade specialist, ensuring the highest possible quality at every step along the way.
What does this mean in practice? Design, welding, painting and assembly are all undertaken by tradesmen who are specialists in their fields, so that all the work in our trailer production process is completed to the highest possible standards. Not all trailer builders in Adelaide put this sort of emphasis on employing trade specialists, and so this is one of the many reasons why our trailers stand out from the crowd.
Below are some of the processes that we use in the production of our complete trailer range that make them so popular, and why so may people choose our trailers made in Adelaide rather than imported trailers.
Quality welding is the key to quality trailers
There are two key factors in terms of welding techniques and equipment that contribute to the strength and durability of our trailers.
At our Pooraka trailer workshop, we use 3-phase wedding equipment, as opposed to a single-phase welder like many other trailer manufacturers. The reason we do this is because 3-phase power produces more constant delivery and so can carry more load. There is also a higher duty cycle (i.e., the period of time you can safely produce a welding current without having to take a break), so we have less downtime during the welding stage.
Likewise, using a 3-phase welder is markedly faster than if the same process is completed using single phase welding equipment, which contributes to our being able to maintain our inventory levels and produce a range of custom trailers.
Another reason that we opt to use 3-phase welding is that it produces better weld penetration (known in the trade as the depth of fusion). This is not the only factor that determines the strength of a weld, but wields where there is greater fusion between the base metal and the filler metal will be stronger.
The quality of our production is also enhanced by the use of vertical up MIG welding on all critical high load and high stress areas. This technique, which involves a succession of small weld sections being layered one above the other, is more time consuming but produces stronger welds. It requires skilled, specialist welders to be able to use vertical up MIG welding successfully, but we think the extra time and effort is worth it in order to produce the sort of strong, durable trailers Adelaide tradies and others tell us they want.
Our approach also contributes to reducing costs and overheads, which we then pass on to our customers through offering trailers at more competitive prices than many other Adelaide trailer sellers.
Self-etching primer produces a finish that lasts
We use self-etching primer on all of our trailers, before painting them in an industrial dark grey enamel that makes them both extremely robust and easy to maintain.
Self-etching primer both etches and primes in one coat, and we use it to prepare the chassis, drawbar, checker plate floor and other steel surfaces of our trailers so that there is the maximum possible adherence when paint layers are applied. This process helps to provide more extensive protection against corrosion and other degradation.
Made from a combination of zinc and phosphoric acid, self-etching primer etches into the surface of the steel and then the zinc rises, and this produces a profiled surface with minute peaks and valleys, essential for the effective application of a paint layer. We go the extra mile with this stage of the production process because a strong and durable chassis, particularly the underside, is key to producing a trailer that is up to the job and will last.
Some Adelaide trailer manufacturers neglect this and so their trailers are not as well protected against rusting as they should be. For instance, they might only use a standard primer on the underside, if a primer is used at all, or even a cheap standard black paint, which does not provide anywhere near the same levels of protection against damage or corrosion that our coating and painting process does. In our view, using self-etching primer prior to painting is essential, and is anther example of the ways in which we deliver trailers with longer operating life that require less remedial repair work.
Furthermore, like all of the other stages in our trailer manufacturing process, the priming and painting of our trailers is completed by specialist tradesmen, in order to ensure that this vital part of the process is completed to the highest possible standard.
Talk to us to find out more about how we build our Adelaide trailers
If you want to find out more about what makes our trailers so strong and durable, feel free to call Sam on 0477 799 871 and we will be happy to discuss our manufacturing process in more detail. You're also welcome to visit our new workshop in Pooraka and see our Adelaide trailers being made at first hand.