Upgrades and Extras for All Types of Trailer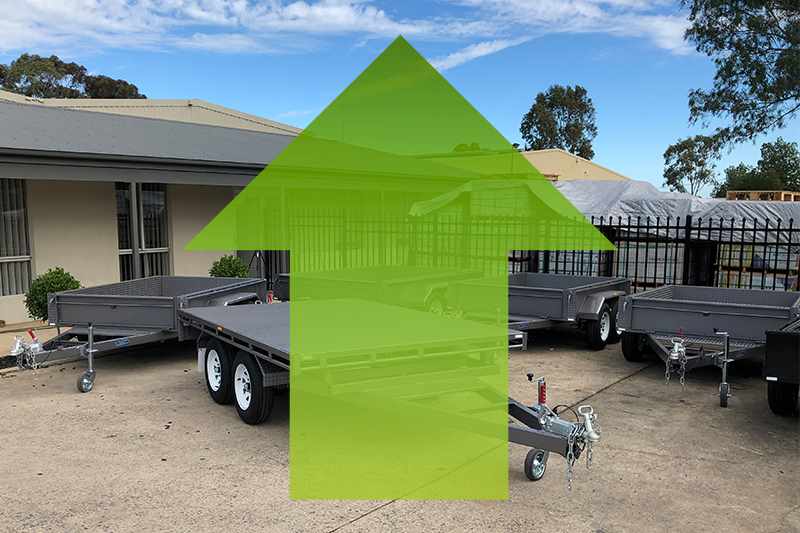 At Basic Trailers, our aim is always to do what we can to meet the many and varied needs of Adelaide trailer users. We know that our trailers are used for all sorts of jobs in a variety of applications, so we produce and fit a range of trailer extras and accessories to make sure that your new trailer is fully equipped to meet all your needs.
Semi-open headboards for flat-top trailers
Basic Trailers produces flat top trailers in Adelaide in a range of dimensions — 8x7, 10x7, 10x8, 12x7, 12x8, 14x8 and 16x8.
Flat deck trailers are popular because of their versatility, and their design means that they can carry a range of different loads, such as tanks, plant, machinery, or pallets. In addition, being open on all sides means that loading a flat top trailer can often be easier than a loading a trailer with sides, as it can be approached from any angle.
However, some types of loads require the extra security that is provided by having a headboard added, in order to prevent the load from shifting forward over the front of the trailer. We produce 1200 mm high semi-open headboards that can be added to any of our flat top trailers, giving you added security for your load while not obscuring your vision when driving,
Priced at $220 for our 8x7, 10x7 and 12x7 flat deck trailers, and $265 for the 10x8, 12x8, 14x8 and 16x8 models, a headboard is a cost-effective option for enhancing your towing safety.
Drop down legs for plant trailers
Our range of tandem axle plant trailers includes 8x5, 10x5 and 10x6 models, all of which are designed to be robust and durable so that they can carry all types of plant and machinery.
To improve both operating efficiency and safety, we can also fit your plant trailer with 400 mm drop down legs. These enable a trailer to be stabilised with minimum effort, ideal for when you're loading any sort of machinery onto the trailer via the ramps.
Priced at $440, our drop down legs (sometimes referred to as corner steadies) are a cost effective way of ensuring that your trailer is steady and stable when loading plant or machinery on a worksite, a farm, a building site, or anywhere where there might be soft or uneven ground.
Heavy duty winch for car trailers
Basic Trailers specialises in building car trailers, and our range includes both flat floor and beaver tail models, with either 14x6 or 16x6 dimensions.
One of the key requirements for loading a car trailer safely is a winch that can be used to haul the vehicle up onto the trailer deck. We can fit any of our flat floor or beaver tail car trailers with a heavy duty winch that will ensure that you are able to load any size of vehicle safely and with minimum fuss.