The Benefits of Using a Tilt Car Trailer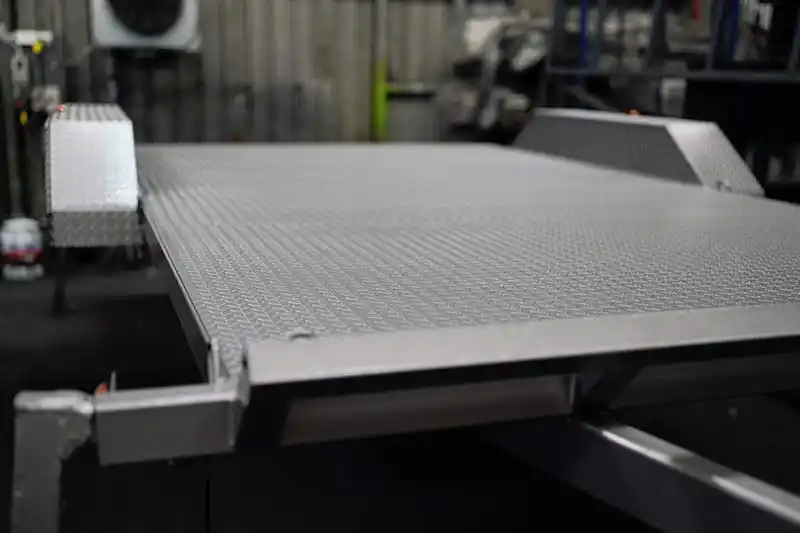 At Basic Trailers, we have further extended our range of Australian-made trailers with our new 16 x 6.4, 18 x 6.4 and 20 x 6.4 tilt car trailers.
As we design and manufacture all of our trailers in our Pooraka workshop, we are able to respond swiftly to our customers' needs, and so we have begun building hydraulic tilt car trailers in response to a growing demand from tradies and the motor industry across Adelaide who appreciate the convenience, safety and versatility these trailers provide.
Advantages of hydraulic tilt car trailers
Our hydraulic tilt car trailers are designed to make transporting cars, plant and heavy machinery safer, quicker and easier.
Utilising a 3 x 1.5 27" 6000 kg rated double acting hydraulic cylinder powered by a 12v hydraulic power unit and supercharge D50Z 80ah deep cycle battery, the trailer tray tilts up so that the rear is lowered to ground level, making it ideal for loading cars (including low riding and classic cars), heavy plant and equipment. There is no winding, or physical raising or lowering of the trailer required.
In addition, there is no need to use bulky ramps with a tilting car trailer, which can in some circumstances can be cumbersome to manoeuvre into place. The straightforward loading process also reduces the chances of either your trailer or the vehicle you're towing being damaged.
A tilt car trailer also improves workplace safety as there is less manual intervention required in order to load a car or other types of plant and vehicle, so there is less risk of physical injury. Similarly, once a vehicle has been loaded, it can be firmly locked in place so that it won't move while being transported.
In addition, as our car tilt trailers are manufactured to the highest standards using 100% Australian steel, you can be assured that they are robust and durable enough to take on the most demanding driving and towing conditions. This means that if you need to tow plant on a worksite or country roads, your car trailer will be up to the job.
What can you carry on a tilt car trailer?
A further advantage of our tilt trailers is that they are both strong and versatile, and can be used for towing a wide range of vehicles, plant and equipment. This includes:
• Cars and vans
• Construction equipment, including fork lifts, scissor lifts and bob cats
• Motorbikes
• Mowers and landscaping equipment
• Cleaning and maintenance machinery
• Agricultural machinery
• Tool chests and cabinets
Our range of car tilt trailers can be upgraded to 2,800kg, 3,200 kg, 3,500 kg or 4,500 kg ATM, meaning even the heaviest vehicles and plant can be towed safely, and they are available in both tandem and tri-axle versions. A range of other trailer upgrades are also available, so your trailer can be equipped with a variety of special features to meet your specific needs.
Custom designed tilt car trailers
Our range includes three different tilt car trailer sizes — 16x6.4, 18x6.4 and 20x6.4 — but we also specialise in designing and building custom trailers.
If you have very specific needs and our current range doesn't quite fit the bill, please don't hesitate to get in touch with us and we will be happy to discuss your requirements and designing a custom trailer just for you.
If you want to find out more about our current range of car tilt trailers, or discuss having a custom trailer built to your specifications, please feel free to call Sam on 0477 799 871. You are also welcome to visit our workshop in Pooraka and see our Adelaide trailers being built at first hand.