Taking trailer design in Adelaide to the next level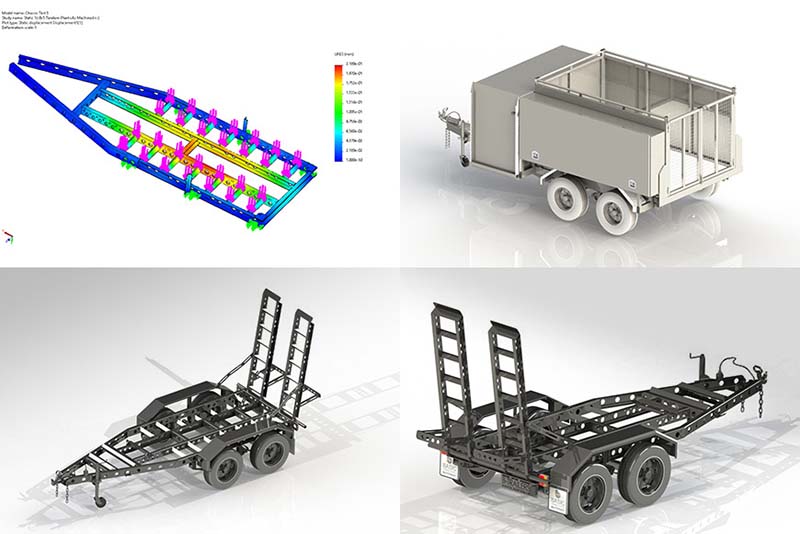 Everything we do at Basic Trailers is about delivering for our customers robust and durable trailers that provide the best possible value for money. This means that we are constantly developing our range of trailer designs to meet their many different requirements, as well as responding to customers' specific needs by designing custom trailers at our Pooraka workshop to precise specifications.
What goes into producing a quality trailer design?
We have made a significant investment in our technology and infrastructure in the years we have been in business, growing our capabilities in a variety of different areas.
One of the most significant developments we have introduced into our Adelaide trailers workshop is that we now utilise SolidWorks CAD (computer aided design) simulation software to design our range of car trailers, tipper trailers, mower trailers and more, along with the growing number of custom designed trailers that we are asked to build for our customers.
One of the best tools on the market today for engineering design, SolidWorks CAD software has enabled us to expand the range of trailers we offer. This is because our initial ideas and concepts can be translated into very accurate 2D and 3D designs, which are able to be rotated 360° and seen from all angles. This provides a full, in-the-round view that enables our design team to examine all aspects of a trailer design in order to see not only how it will look, but also its functionality.
SolidWorks also has inbuilt motion and stress analysis tools that means all our trailer designs adhere to Australian Design Rules (ADR) and all other relevant Australian Standards with regard to manufacturing and safety.
Investing significantly in this new technology has meant that our in-house trailer designers and engineers can produce even better trailer designs, which our highly trained and qualified welders and fabricators can then turn into the strong and durable trailers that Adelaide tradies, builders and landscapers need.
How we go from design concept to realty
Our Adelaide trailers workshop is also equipped with a range of high end CNC machinery (computer-numerical control). We use these cutting edge tools conjunction with our CAD simulation software in order to take our new and custom trailer designs from concept into production.
CNC machinery has replaced some of our operator-controlled equipment in order to increase the efficiency of our processes and to reduce costs. It is also help us to maintain the high standards we set ourselves at every stage of the manufacturing process, and is why we are able to offer such strong, durable and long lasting trailers that provide customers with exceptional value for money.
What makes Basic Trailers different?
We think that our design and production methods makes us stand out from other manufacturers of trailers Adelaide has to offer. This is because we design and build everything ourselves in-house, rather than importing the components from overseas and simply bolting them together here.
Our manufacturing processes are also backed up by a committed trailer sales team who are here to help you choose the right trailer for your needs, whether its from our existing range or a new, custom built trailer.
Get in touch with us on 0477 799 871 or email info@basictrailers.com.au to find out more about our full range of trailers, and how we can work with you to create a new custom trailer to your precise specifications.