5 Benefits of Enclosed Trailers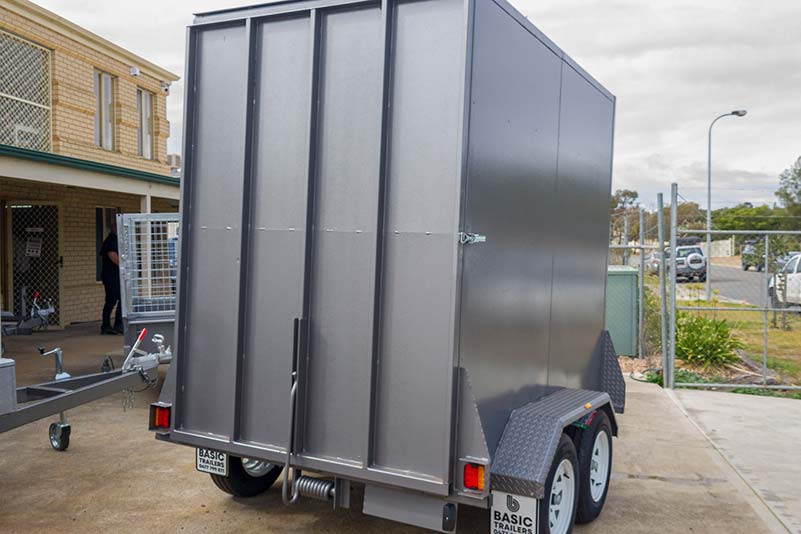 At Basic Trailers, we are continually expanding our range of Adelaide-built trailers based on what our loyal clients tell us they need. This is why we are currently producing a growing number of enclosed trailers in order to meet the needs of landscape and gardening businesses, the building and construction industry, movers, tradies and many more.
There is also a demand for enclosed trailers in Adelaide by people using them for recreation and leisure activities, such as transporting motorbikes, quad bikes or go karts, or carrying camping gear.
Benefits of Enclosed Trailers
Our enclosed trailers are designed and constructed at our Adelaide workshop and deliver a range of benefits whatever use you put them to.
1. Enclosed trailers are highly versatile
Enclosed trailers can be used to carry a wide range of goods, or customised to meet very specific needs.
The interior can be efficiently organised with a variety of different storage systems, and so you can fit out your enclosed trailer with shelving, hooks, tool racks, etc., if required. You can also add racks to the roof or sides for carrying ladders or other kit, and in this respect you have many more options than with an open box trailer.
2. It is easy to load an enclosed trailer
The rear tailgate on our standard enclosed trailers acts as a ramp, making is straightforward to load and haul bikes and other vehicles, plant, or heavy machinery.
However, if required, we also offer a barn door option (two doors that open outwards) if that better suits your needs. This set up can be useful in situations where parking or access might be an issue, while barn doors can also be utilised as an additional storage option, by adding hooks or racks.
3. Keep your kit and equipment safe and secure
Enclosed trailers are an ideal solution for tradies, builders, landscapers or anyone who uses valuable equipment as part of their work. As an enclosed trailer is constructed with a strong back door (or barn doors) and can have locks fitted, it provides a secure storage option on site, at the workshop, or at home.
Provided you take the appropriate steps to protect your trailer from being stolen, an enclosed trailer can help tp prevent your business being disrupted as a result of kit, equipment or tools being damaged or stolen.
4. Enclosed trailers protect your load and help you tow more safely
When you are carrying goods or equipment in an enclosed trailer, you remove any risk of damage from road debris or inclement weather. It also means there is no chance of shedding the load.
This added level of protection is especially useful when you are frequently on the move, when travelling long distances, or towing over difficult terrain where there is potential for loads to become dislodged.
5. Use an enclosed trailer for promoting your business
An enclosed trailer also provides a unique opportunity for promoting your business, as you can add your logo and business name to the side, giving you a free, mobile advertising space that can potentially reach large numbers of people whenever you are on the road.
Specialists in Adelaide Enclosed Trailers
At Basic Trailers, we specialise in the design and construction of enclosed trailers in a variety of sizes, including both single axle and tandem axle trailers:
• 6x4 enclosed 5ft trailer – single axle
• 7x4 enclosed 5ft trailer – single axle
• 7x5 enclosed 5ft trailer – single axle
• 8x5 enclosed 5ft trailer – single axle
• 8x5 enclosed 7ft trailer – tandem axle
• 8x6 enclosed 7ft trailer – tandem axle
• 10x5 enclosed 7ft trailer – tandem axle
• 10x6 enclosed 7ft trailer – tandem axle
• 12x5 enclosed 7ft trailer – tandem axle
• 12x6 enclosed 7ft trailer – tandem axle
If you want to find out more about our range of enclosed trailers, please feel free to call us on 0477 799 871 or email us. You are also welcome to visit our workshop in Pooraka and see first hand our Adelaide trailers being built.