The best quality trailers in Adelaide
High quality trailers manufactured in Adelaide
When it comes to trailer sales, great service and highly competitive prices, then our Adelaide trailer shop should be the first site you visit.
We have become a leader in the trailer industry in South Australia because we specialise in a range of locally built trailers that offer the best value and deliver in terms of strength, durability and long operating life. Our trailer sales team is always happy to provide a free quote for a new trailer, and most of our wide range of trailers are available for immediate towing.
If you are looking for a custom trailer built to your precise specifications, a tandem axle trailer, a heavy duty trailer, or a range of accessories to kit out an Adelaide trailer to suit your specific needs, our trailer sales team will help you purchase a new trailer that will deliver the quality you need.
We take care of all aspects of trailer design and manufacture in-house at our Adelaide trailer workshop at Pooraka, which is why we can offer a wide selection of local built trailers that are tough, cost effective for business, and suit a range of towing applications.


BEST QUALITY TRAILERS THAT WE MANUFACTURE IN OUR ADELAIDE TRAILER WORKSHOP


BOX TRAILERS, CAR TRAILERS, TANDEM TRAILERS AND TIPPER TRAILERS


WIDE SELECTION AND RANGE OF TRAILERS TO SUIT ALL NEEDS AND BUDGETS


12 MONTHS' WARRANTY ON ANY BASIC TRAILER NEW TRAILER


QUALITY WORKMANSHIP AND BEST VALUE TRAILERS ADELAIDE HAS TO OFFER


GREAT SERVICE AND EXPERT SALES TEAM IS WHY WE HAVE SO MANY LOYAL CLIENTS
WHAT OUR CUSTOMERS SAY ABOUT OUR AUSTRALIAN MADE TRAILERS
WE ARE LEADERS IN THE SOUTH AUSTRALIA TRAILER INDUSTRY
Australian made trailers for sale for business and personal use
As a local trailer manufacturer, we pride ourselves on producing the best quality trailers Adelaide customers can rely on, along with a sales team that always puts our clients first.
We design and build Australian made trailers using components from local parts manufacturers based in South Australia and across Australia, so not only are you buying a new trailer that will have greater quality than most trailers on the market, but you are also supporting the local economy.
Our trailer range is extensive, so matter your requirements, there will be a Basic Trailer to suit. So if you need a single or tandem axle box trailer, a car trailer (including flat top and beavertail), tipper trailers, a stock crate trailer, a mower trailer or a plant trailer for your business, our trailer sales team is here to help you find the right trailer to suit your needs.
We design and manufacture our range of trailers in-house at our Adelaide trailer workshop, which is why can offer the best value and best quality trailers Adelaide business owners and individuals can rely on.
You can order a new trailer online or in person, and our trailer sales team is always on hand to help guide you through the process, including choosing from the range of accessories that can be added to any of our trailers. You can also talk to us about custom trailers, and we use high end CAD simulation software and CNC machinery to create unique trailers built to our customers' specifications.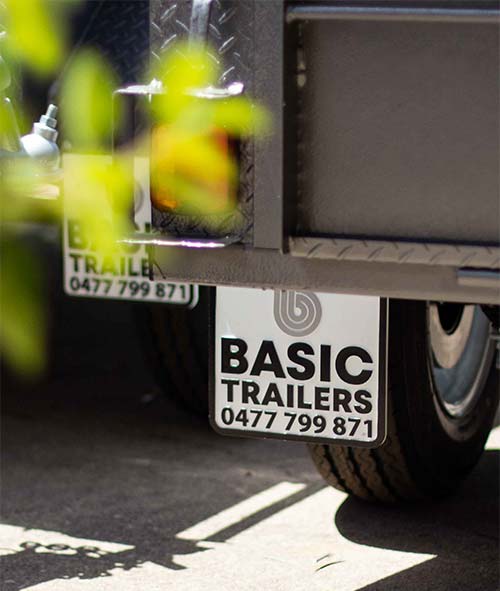 HOW WE BUILD THE TRAILERS ADELAIDE TRUSTS