Work better with a high quality tradie trailer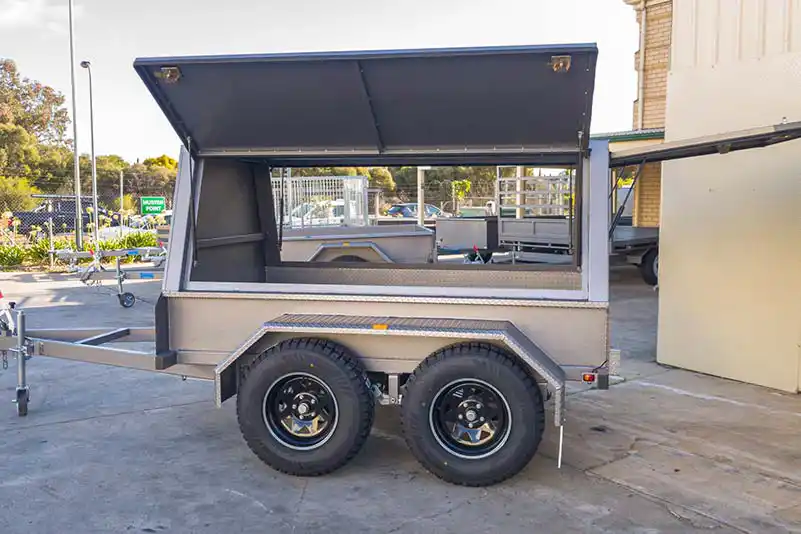 At Basic Trailers, we are here to make working life easier whatever industry you're in, and so our range of tradie trailers is designed to do just that.
Any tradie knows that productivity, efficiency and workmanship depend on having high quality equipment and tools that are geared to meet your needs, and so our tradesmen trailers can be set up in a variety of ways to meet your onsite and transport requirements.
We design and manufacture both single axle and tandem axle enclosed tradesman trailers in Adelaide that can be customised with a range of upgrade features that mean you can configure your trailer to make your working day easier and more efficient.
One of the most important features of a tradie trailer is being able to provide security for your kit, both when you are onsite and travelling to and from a job.
All of the doors and access points on our tradie trailers can be securely locked, ensuring your valuable equipment is protected whenever your trailer is parked up (this should also be backed up with security measures that stop your trailer being stolen).
In addition, the interior of your tradesman trailer can be designed with a range of storage features that keep your kit secured and safely in place, regardless of the sort of terrain you're travelling on. This can be especially important on worksites, which can have a lot of uneven ground, and where unsecured tools and kit can shift and get damaged if not securely in place.
Our tradie trailers offer excellent value for money
Equipment durability and long operating life are essential to the efficient operation of any business, and for tradies in particular, it is essential.
This is particularly the case if you are regularly travelling long distances, driving over rough or unsurfaced roads, or are frequently on worksites where your trailer is going to get knocked around a bit.
Our trailers are noted for the quality of the materials and overall structural integrity, as well as offering trouble free towing. We use 100% Australian steel in all of our tradie trailers, along with solid 45 mm square premium 1045 grade steel axles, 7 leaf eye slipper spring suspension, and 50 mm override tow couplings (2,000 kg rated) as standard.
In order to better meet your business and work needs, we can customise a tradie trailer with a range of upgrade features designed to ensure your trailer is set up exactly how you need it.
Upgrade features can include (but are not limited to):
• ATM upgrades up to 4.5 tonne
• Ladder racks and roof racks
• Customised shelves and storage
• False floors
• Lift up rear doors
• Centre mesh dividers
• Front compressor boxes
• Tool boxes manufactured to your specifications
• Jerry can and gas bottle holders
• and many more.
If there are any specific features that your trade trailer needs, call Sam on 0477 799 871 to discuss your requirements in more detail.
Get straight down to work with TrailerPay
If you need a new trailer for your business, but want to be able to spread the payments to help with cash flow, you can buy a new tradesman trailer from Basic Trailers using TrailerPay.
For a minimal deposit, followed by affordable weekly repayments over a set period of time, you can tow away a new tradie trailer from our Pooraka workshop straight away.
This is also made easier by the fact that we can also take care of 3 or 6 month trailer registration for you on the spot.
Call Basic Trailers to find out more about tradesman trailers
Call Sam on 0477 799 871 or email us to find out more. You can also call in to our Adelaide trailer workshop at any time to see our current range of tradie trailers, or find out more about how we can customise a tradesman trailer to meet your specific needs.