The best value trailers Adelaide has to offer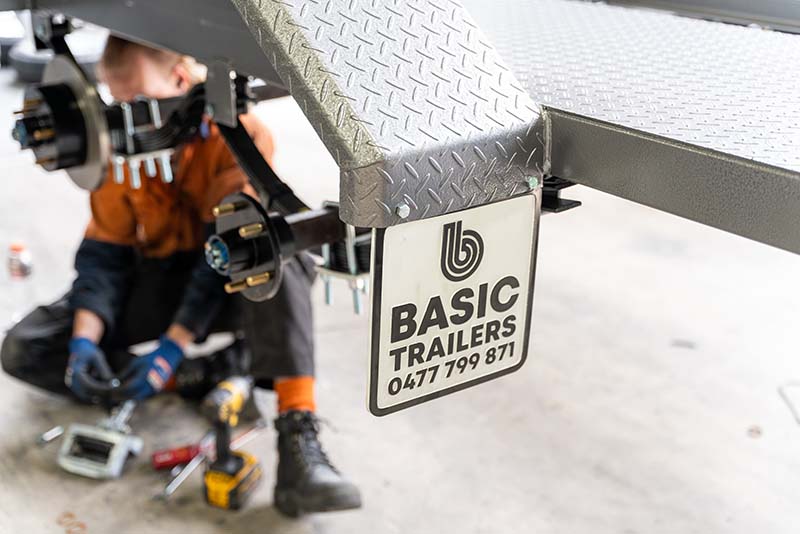 No matter what you use a trailer for or how often you use it, what you want is durability, long operating life and value for money. At Basic Trailers, we are confident that we provide all of this and more for our ever-growing number of satisfied customers — but how do we do it?
The secret is that everything we do is geared towards producing strong, tough and long lasting trailers, combined with highly competitive prices that give you exceptional value when you buy a trailer from our extensive range.
As well as using 100% Australian steel and components from local suppliers, our trailers are such good value because we undertake all of the design work ourselves in our Pooraka trailer workshop.
Our trailers are designed to meet the many different needs of our customers, and because everything is done in-house, we can produce the sort of custom trailers Adelaide tradies, builders and landscapers need for their businesses.
We use high-end CAD (computer aided design) software as part of the trailer design process, as it enables us to find new and innovative ways of building our tough, value-for-money trailers. Using CAD software also means that our trailers adhere to Australian Design Rules (ADR) and relevant Australian Standards, so we know that the trailers we design will be up for working hard in challenging Australian conditions.
The best Adelaide trailer manufacturing process
The way in which we manufacture our 100% Australian-made trailers also adds to their durability and the great value they offer.
Using CNC machinery to build the trailers Adelaide buyers want
For a number of our processes, we use CNC (computer-numerical control) machinery at our Pooraka workshop, rather than operator controlled equipment. The reason for this is that it enables us to work with greater precision, enhancing the quality of the end product in our standard range of trailers, while also enabling us to create the custom trailers Adelaide buyers want to meet their specific needs.
In addition, our CNC manufacturing processes also mean greater efficiencies and lower overheads, and this is reflected in our highly competitive prices and trailers that give you great value for money.
We use specialist welding techniques to build our Adelaide trailers
Our team is made up of trade specialists at every stage of the trailer manufacturing process, so we can always be sure that work is being completed to the highest possible standards.
Nowhere is this better seen than in our approach to welding, where we use 3-phase welding equipment as it produces more constant delivery and so can carry more load. 3-phase power also produces a higher duty cycle (i.e., the period of time you can safely produce a welding current without having to take a break) and this makes the process quicker, all of which adds to our production efficiency and means we are able to pass these cost savings on to our customers in the form of lower prices.
Furthermore, one of the reasons why we are able to manufacture such strong and durable trailers is that we use vertical up MIG welding on all critical high load and high stress areas. This is a highly specialised welding technique, but the additional time and effort required is worth it, and adds to the overall durability and value you get when you buy a trailer in Adelaide from Basic Trailers.
Adelaide trailers that are built to last
Another reason why our trailers are so tough and suitable for all types of conditions is that we use a self-etching primer made from a combination of zinc and phosphoric acid prior to painting and the final finish.
As it both etches and primes in one coat and produces a profiled surface, self-etching primer ensures maximum adherence when paint layers are applied, giving better and longer lasting protection against rust, corrosion and the potential deterioration of steel surfaces.
Trailers built in Adelaide contribute to the local economy
As well as offering great value to our customers, Basic Trailers is also committed to supporting local industry and playing our part in the South Australian manufacturing sector.
Not only do we use 100% Australian steel in our trailers, and design and manufacture them locally at our Pooraka workshop, we also use components made by Australian and SA parts manufacturers.
We value the quality of SA workmanship and believe that using parts made locally is one of the reasons why our trailers are so durable in Australian conditions, giving our customers not only great value but also peace of mind.
Talk to Basic Trailers to find out more about the best value trailers Adelaide can buy
If you want to find out more about how we design and build our Adelaide trailers so that they are strong, durable and offer exceptional value for money, call Sam on 0477 799 871 and we will be happy to discuss our design and manufacturing processes in more detail.
You're also welcome to visit our workshop in Pooraka and see how our trailers are built for yourself.