Single-axle or Tandem Trailer - What Do I Need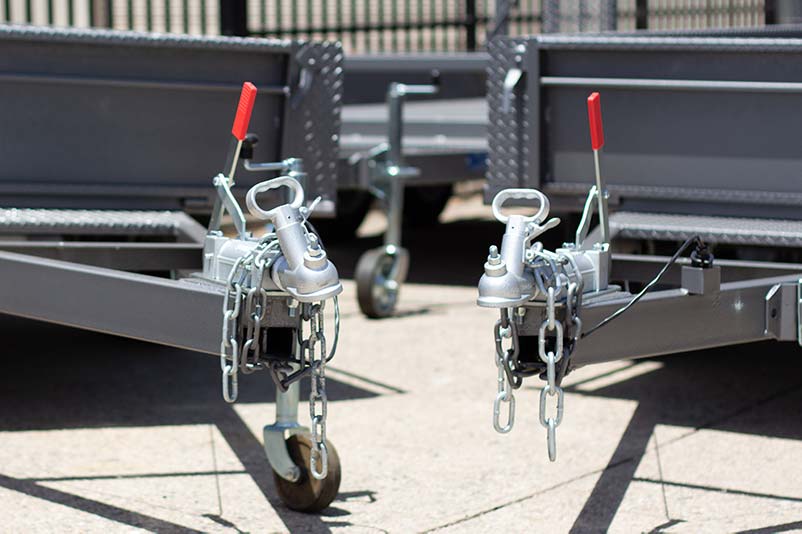 Should I buy a single-axle or a tandem trailer? As a leading trailer manufacturer in Adelaide, we get asked this a lot, so we hope that what follows will help to answer some of your questions.
What size loads are you carrying?
When you're looking at one of our single axle trailers for sale, or are considering buying a tandem trailer, the decision may well be determined by the weight of the loads you anticipate carrying.
We manufacture in Adelaide five sizes of single-axle box trailer:
Each of these has a standard Aggregated Trailer Mass (ATM) of 1,350 kg, and so for the homeowner who uses a trailer to cart furniture, rubbish or green waste, or for light industrial use, a single axle trailer may well be all that's required. Nevertheless, it is possible to upgrade each of these models to a 2,000kg ATM, or to add a trailer cage, if you want to carry heavier or more unwieldy loads.
However, if you are intending to carry loads exceeding 2 tonnes, then you will need a tandem axle trailer. Our range of tandem trailer for sale in SA includes box trailers, tipper trailers, car trailers, plant trailers and stock crate trailers.
All are manufactured from Australian steel in our Holden Hill workshop and have a 1,990 kg ATM. Through the addition of features such as an upgraded chassis and drawbar, 4000 kg rocker roller suspension, 4 wheel electric brakes, a breakaway unit and 2000 rated 50 mm axles, they can be upgraded to a maximum 3,500 kg ATM. This means Basic Trailers dual axle trailers are strong, durable and able to take on the heaviest of loads.
Other considerations
When you're deciding whether you need a single-axle trailer or one of our tandem axle models, there are some other considerations besides the weight of your loads.
If you're fairly new to towing a trailer, or you don't tow one very often, you will likely find a single-axle trailer easier to manoeuvre, particular when it comes to reversing and parking. They also tend to be lighter and easier to move by hand, useful for hitching up or when you're moving your trailer in and out of your driveway or shed.
The long term operating costs associated with a single-axle trailer also tend to be lower, as you only have one set of tyres, brakes and bearings to service, maintain or replace.
On the other hand, you may also find that the ride from a single axle trailer is not as smooth as a tandem, while the overall tyre wear is likely to be more rapid as well.
Aside from a greater load capacity, you'll find that a dual axle trailer tends to provide a smoother, more stable towing experience, and is less likely to sway at speed or when being overtaken. A burst tyre, while still dangerous, is also less likely to be calamitous on a tandem axle trailer.
Our range of Adelaide tandem trailers is also very versatile, and in addition to our 8x5, 10x5 and 10x6 dual axle box trailers, we manufacture tandem trailers designed specifically for a range of specialist jobs, such as towing cars, moving stock or carting plant and machinery, while our tipper trailers can be used in a wide variety of both domestic and industrial applications.
The registration costs, however, are the same whether you have a single axle or a tandem, and you can register a trailer in South Australia at a cost of $90 for 3 months, or $150 for a year.
What next?
If you aren't sure whether a single axle or a tandem trailer made in Adelaide will best suit your needs, call Sam at Basic Trailers on 0477 799 871, or email us with your enquiry, and we'll be happy to share our knowledge and experience with you.