Getting the job done with Adelaide plant trailers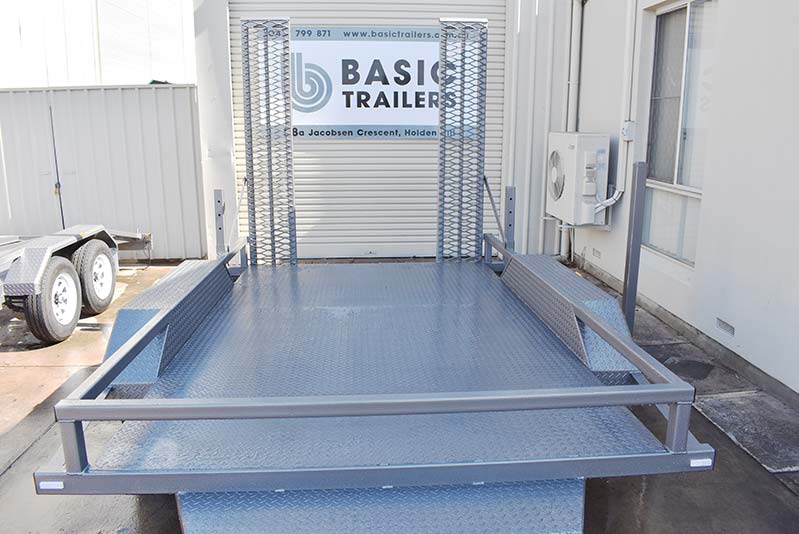 At Basic Trailers, we design and manufacture trailers that are perfect for work, including tradesman trailers, lawnmower trailers and car trailers. We also produce a large range of plant trailers designed and manufactured specifically to carry workplace and recreational equipment, machinery and vehicles safely.
With a Basic Trailers plant trailer, you can efficiently load and tow a variety of machinery, such as excavators, bobcats, scissor lifts, ride-on mowers, quad bikes and more, keeping them safe when you're on the road travelling to and from the job, and on worksites once you're there.
Our strong, durable plant trailers can be put to use in a variety of industries and sectors. For instance, they are made for use by Adelaide tradies, builders, construction companies, farmers, fruit and wine growers, gardeners and landscapers.
Like all the trailers we design and manufacture in our Adelaide workshop, our plant trailers are made from 100% Australian steel, and offer durability, long operating life and exceptional value for money.
Any trailer that you use for work needs to be strong enough to get the job done, while also being cost effective and giving you value for money. At Basic Trailers, we pride ourselves on producing plant trailers that give you all this and more.
Our plant trailers feature as standard tilt ramps for easy access, a 50 x 50 x 2.5 mm RHS chassis and a 100 x 50 x 3 mm RHS drawbar, along with a 2.1 mm checker plate floor and sides, and rolled 350 mm high sides.
Solid 45 mm square premium 1045 grade steel axles and 7 leaf slipper spring suspension also come as standard, along with a 50 mm override tow coupling (2,000 kg rated) and 185/70 LT tyres fitted to 14 x 6 inch Sunraysia type rims.
Other features that come as standard on our plant trailers include mechanical disc brakes and calipers, high quality LED ADR approved multi-volt tail lights, front and side reflectors, mudflaps, jockey wheel, and ADR approved safety chains.
As we design and manufacture our trailers in our Adelaide workshop, we are able to add a range of additional features and upgrades that enable you to customise your plant trailer.
For instance, you can add an excavator bucket frame or an extended drawbar, as well as high sides and adjustable rear drop legs.
Other available upgrades include front axle electric brakes, rocker roller suspension and all terrain land cruiser tyres and rims.
If you need to carry heavy machinery, you can also upgrade the ATM of your plant trailer. Our 14 x 6 tandem plant trailers can be designed and built to have a 2,800 kg, 3,200 kg, 3,500 kg or 4,500 kg ATM, while tri-axle plant trailers can be upgraded to 3,500 kg or 4,500 kg ATM.
Our full plant trailer Adelaide range
Our range of plant trailers designed and built in Adelaide include:
• 8 x 5 open tandem plant trailer
• 10 x 6 open tandem plant trailer
• 12 x 5 open tandem plant trailer
• 12 x 6 open tandem plant trailer
• 14 x 6 open tandem plant trailer
Need to know more about plant trailers?
Basic Trailers specialises in designing and manufacturing a range of plant trailers that can be used across a range of industries. To find out more, contact us on 0477 799 871 or email us and we will be happy to discuss your specific needs, including the range of trailer upgrades available.